Bandra West Pictures is a boutique content creation house that started off by producing ad films and documentaries before diving into developing and producing feature length films and content for OTT platforms. We focus on developing exciting ideas into great scripts and then supporting that content with the right teams and practises.
We have been creating niche, path breaking content for over 12 years across segments and have recently entered the Digital universe with our collaborations with Netflix & Amazon Prime.
Bandra West Pictures is helmed by Raja Krishna Menon (Creative) and Janani Ravichandran (Business) who between them bring over 20 years of cinema experience to the company.
raja krishna menon
Banglore boy whose love for Cinema brought him to Bombay.  In over two decades of work life in Mumbai,Raja has directed over 300 Ad films, 4 feature films – Bas Yun Hi, Barah Aana, Airlift & Chef, and is the creative producer of Upstarts and on projects that are in development. Raja is an avid tennis player, yoga enthusiast and loves travelling and exploring different worlds.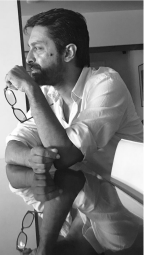 janani ravichandran 
Madras girl who learnt Hindi from Bollywood movies. Her journey in Mumbai took her from being an Assistant Director in movies and ad films to Producing. She has produced over 100 ad films & 2 feature films under the BWP banner. In her down time Janani pursues classical dance and explores mountain trails.